Hollywood on the Gold Coast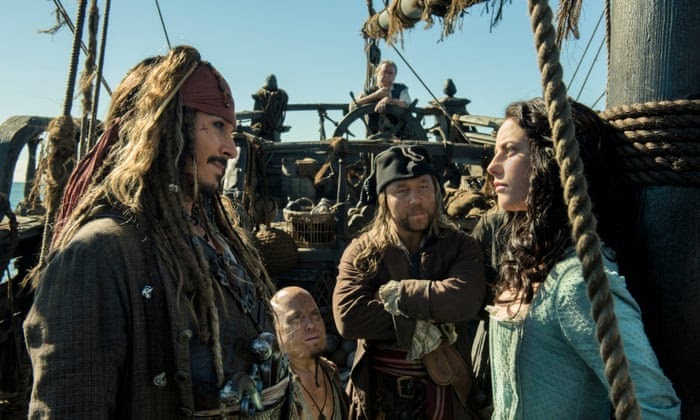 There's no need to visit Los Angeles (even when international borders open!) to spot your favourite celebrities when more and more stars are making their way down under. Over the last few years, the Gold Coast has seen an influx of Hollywood A-listers. From the Hemsworths to Tom Hanks, our sunshine city is the place to be.

Take a journey with Hopo Gold Coast Ferry and witness all the glitz and glamour for yourself. Our ferries will take you down winding waterways and showcase the highlights of Hollywood best.
Celebrity lunch or dinner guests
Although the rich and famous love to soak up the Gold Coast sunshine, did you know they also love the delicious food scene? Matthew McConaughey, Bono and Diana Ross have reportedly been seen at chef-hatted restaurants such as Vanita's at Marina Mirage.
Where legends are made: Southport School
Sporting legends were made here. The Southport School is a boys private school known for its sporting achievements, with alumni such as Adam Scott (Golfer), Mat Rogers (NRL), Bernard Tomic (Tennis) and numerous Rugby and Surf Lifesaving legends.

The campus consists of 9 sporting fields, a contemporary sports studio including a gymnasium and weights room, seven tennis courts, a pool and even a river centre for rowing and sailing.
Taste of Luxury at Paradise Waters
Paradise Waters was created in 1980 by the development company Hooker Rex. The average house price is $7M or up to a whopping $3000 per week for rent. Blocks of land sales have recently reached a new record of $8M for a single block. As you cruise past, you can see new luxury homes being built.
You can see celebrity houses such as Grand Prix motorcycle road racing World Champion Mick Doohan. His house is an incredible, multi-million dollar sight to see, complete with a helipad and display cannon!  Keep your eyes open for the home formerly owned by 22 world records and five gold medal-winning Olympic swimmer Ian Thorpe. It is rumoured that he has an Olympic sized pool inside the house!

Our friendly skippers know even more secrets about Paradise Point and the Gold Coast waterways, so make sure to listen to the live commentary.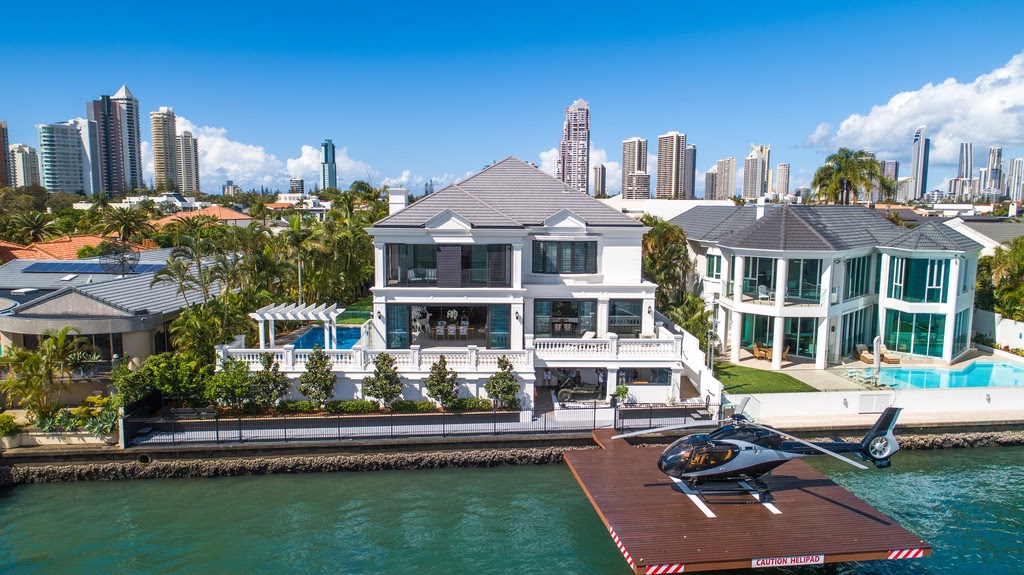 Mick Doohan's incredible home - Image courtesy of Ray White
Italian Glamour at Palazzo Versace
Gold Coast's only 6-star resort, Palazzo Versace, is everything you would expect in a hotel from the world of Versace: an exclusive waterfront setting, spectacular architecture, opulent accommodation and built from Italian craftsmanship, there is no wonder why A-list celebrities choose to make this their hotel of choice.

It has hosted a wide selection of stars from Mick Jagger and the Rolling Stones, Beyonce, Pink, Elton John and even Bill Gates.

See the Italian glamour resort for yourself at Marina Mirage. They also offer fine dining options open to the public.
If you haven't heard, Queensland and The Gold Coast have become the place to be for cinema. An abundance of productions and their stars have moved down under, with more projects planned over the next few years. The Gold Coast has played host to some of the biggest blockbusters of the last decade.

The fifth Pirates of the ­Caribbean movie shot at The Spit for their ocean scenes. It was easier to build a life-size ship prop on the beach than at the nearby Village Roadshow Studios.

Other films shot in Southport, Main Beach, and Surfers Paradise include Muriels Wedding, Aquaman and Thor: Ragnarok.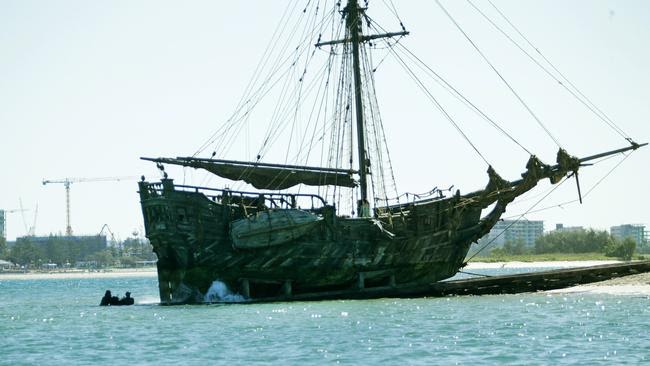 The Dying Gull ship was built at The Spit for Pirates 5. Image courtesy of The Gold Coast Bulletin.
See the stars (on the big screen)
Okay, so you may not be seeing your fave stars in person, but HOTA, Home of the Arts, excellent cinema showcases the latest flicks. See your favourite celebrities on the big screen on their state of the art screens. 
Now you know more about Hollywood on the Gold Coast, it's time you join Hopo for some celebrity spotting.
BOOK TICKETS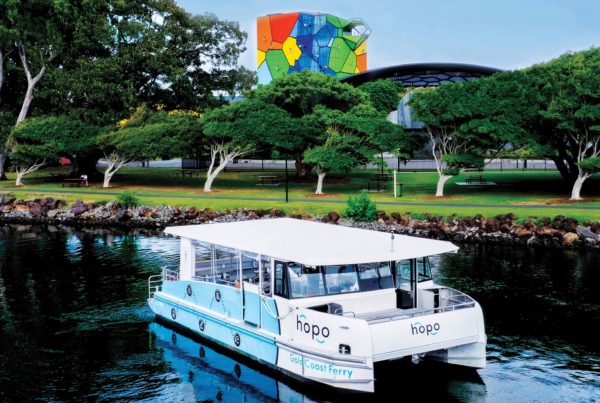 Local Discounts & Benefits
Hopo's version of the go card is the Locals Frequent Hopper Pass it's great for…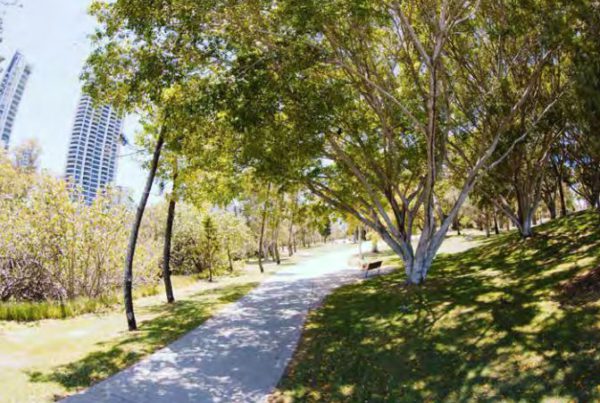 Gold Coast Commonwealth Walk: The best way to see the Gold Coast.
When it comes to sightseeing on the Gold Coast, did you know there is one…